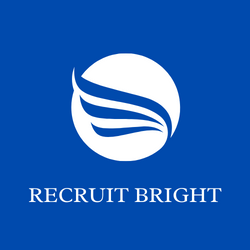 Introducing Recruit Bright – Job Search. Your potential to find a job on the go and your ability to search for employment in the app increases. Download now Available on iOS and Android.

 Recruit Bright Logo
Recruit Bright is a job search app that connects the jobseekers with potential employers in just a few clicks. This jobs app comes with a simple and clean design that makes it easy for everyone to use. The user-friendly interface enables users to search jobs and find employment in their desired location.
Recruit Bright is also a highly secure platform that ensures the safety of user information and data. It has robust security features that ensure it remains a reliable and safe place to look for jobs.
Recruit Bright offers many great features that make it an excellent app for job seekers. Check them out below to see how Recruit Bright can help you find your dream job!
Recruit Bright is a new and innovative job search platform that puts the job seeker in control.
Recruit Bright is a complete job search solution for India, enabling candidates to access the latest jobs in the local market, no matter where they are or what device they are using.
Recruit Bright provides access to jobs from thousands of recruiters, company websites and job boards, in a single place.
We offer both job seekers and recruiters a platform to take their job search and hiring experience to the next level!